Infrared & Thermal Imaging Inspections
Advanced Technology for Detecting Problems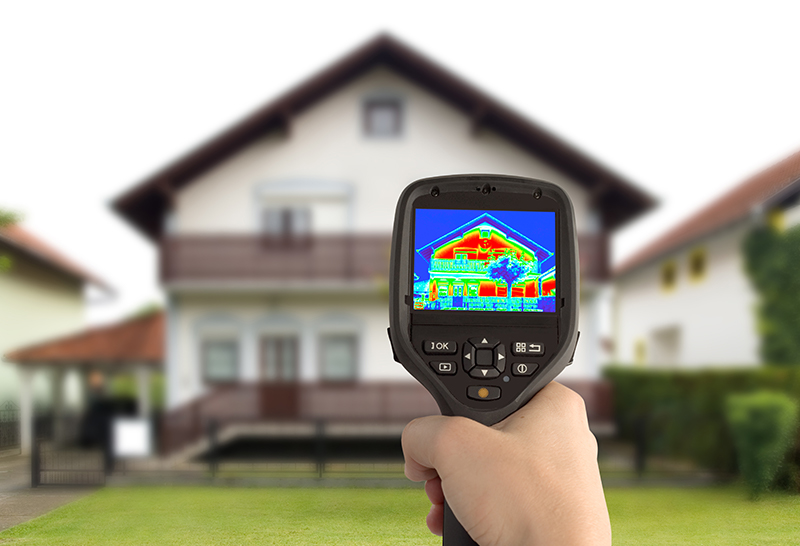 HomeTeam Inspection Service specializes in thermal imaging, which enhances human vision and is one of the most powerful technologies developed to detect heat. Thermal imaging cameras convert heat that is emitted by objects into colors to show variations in surface temperatures to a fraction of a degree.
A thermal imaging inspection can find air leaks unseen by the naked eye. Find a home inspector near you.
By capturing thermal images in and around your home, we can uncover potential areas, including:
Missing insulation
Overheating electrical systems
What is a thermal imaging inspection?
Infrared thermal imaging is a technology that uses infrared radiation to create an image. It is used in a variety of applications, from surveillance and security to medical and industrial imaging. Infrared thermal imaging cameras detect infrared radiation, or heat, and convert it into an electronic signal that is used to create an image. The image is then displayed on a monitor for viewing.
Infrared thermal imaging cameras are used in a variety of applications. They are used in the military for surveillance and security purposes, as well as in law enforcement and search and rescue operations. They are also used in industrial settings to detect and measure temperatures, and in medical imaging such as thermography and functional MRI.
This technology from our home thermal imaging service allows us to find hard-to-spot problem areas in your current or prospective home. Our team is thoroughly trained and experienced with this technology and uses it to provide the most thorough results available.
How Thermal Imaging Services Benefit Your Home
Thermal imaging services are a reliable and efficient option to identify potential problems in your home. Thermal imaging inspections can help homeowners detect issues such as water intrusion and air leakage. These issues can lead to significant problems such as mold and mildew, which can cause health concerns and costly repairs. Thermal imaging helps to identify these issues before they become a more serious problem.
In addition to identifying potential problems, thermal imaging inspections can also help you to save money on your energy costs. By detecting air leakage, thermal imaging can help you to pinpoint the areas of your home where air is escaping. This can help you to make the necessary repairs that will help you to reduce your energy costs.
Our Thermal Imaging Inspection Report
After our team has finished inspecting your home using our infrared cameras, we will provide you with an easy-to-read report that will show everything we found—or, in some cases, the fact that we didn't find any issues. A infrared and thermal imaging home inspection can provide peace of mind that you are receiving the most thorough inspection available.
How Much Does a Thermal Imaging Report Cost?

The cost of a thermal imaging report can vary depending on a number of factors, such as the size of your home or property, the complexity of the inspection, and your specific needs. It's important to get a precise quote tailored to your situation.
It's recommend that you reach out directly to our experts. Our team of professionals will be able to provide you with a comprehensive quote for your thermal imaging report after discussing your needs. They can be contacted to schedule an inspection, during which they will be able to give you the most accurate cost estimation.
Faster, Easier, Better Infrared Inspection Services
When choosing a team to inspect your prospective home, you want to be sure that you choose the best. At HomeTeam Inspection Service, we don't just send one person to conduct your infrared inspection—we send a team. We believe it's important to not only be thorough but to complete the job in half the time by eliminating the need for you to hire multiple inspectors.