About HomeTeam Inspection Service
A Dream Team for Your Dream Home
HomeTeam Inspection Service is proud to provide fast, trustworthy, and accurate team inspections across North America. We understand that, for many homeowners and real estate professionals, a home inspector is the alarm system that rains on the parade of them finding the perfect home.
However, with HomeTeam, you can expect something quite different. Our goal is to ensure your confidence so you can enjoy your newly acquired home without running into any surprises.
Call your local HomeTeam Inspection Service for timely, accurate, and thorough inspections. We'll bring you closer to home!
One Call Does It All® Approach to Scheduling
Why deal with the frustration of making multiple calls to schedule the inspections you need when you can do it all with just one? In addition to whole-house inspections, HomeTeam can conduct all available inspections and testing necessary for your area.
In addition to general home inspections, you can also schedule:
These are just some of the additional inspections we offer.
When you call our inspection team, our friendly representatives schedule everything with you right away. We go above and beyond to be the dream team you need because it's our goal to help you buy or sell the house you love.
You're welcome to read some of our reviews to see why our customers love our home inspection services.
One Call Does It AllⓇ. With one call you can schedule all available inspections and testing necessary for your area. Call (844) 969-0458 or find your nearest HomeTeam
Why Choose HomeTeam for Your Home Inspection?
From fast and convenient inspections to our very detailed reports, customers across trust us with their home inspection needs.
Home Inspections in Half the Time
From efficient scheduling to fast and reliable inspections, you can always count on our time-tested methods and cutting-edge technology to make this process easier for you.
Our team of industry experts will conduct your home inspection in about half the time of a regular inspection, regardless of the size of your home.
We Make Every Inspection a Team Effort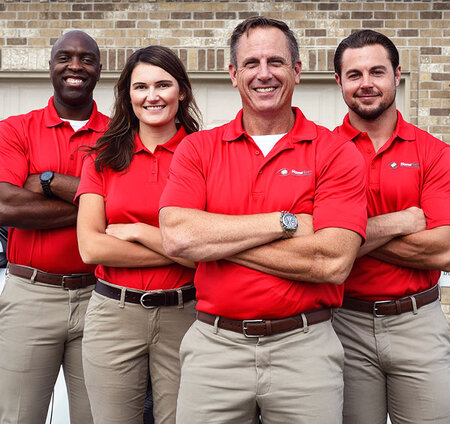 Enjoy the confidence of knowing an experienced team will be inspecting your property and inform you of anything we find.
Because HomeTeam values your time, we bring a team of professionals – all experts in their fields – to the home for a faster, more thorough inspection.
We're Highly-Rated & Backed By Awards and Accolades
We are one of the most trusted home inspection companiesin North America, as well as a:
Keller Williams Approved Vendor
Berkshire Hathaway HomeServices Diamond Preferred Approved Provider
Real Living Real Estate Preferred Alliance Member
We are one of the most trusted home inspection companies in North America, as well as a:
You deserve to have absolute confidence when choosing the right home for you and your family. HomeTeam offers 30 years of experience and is dedicated to giving you that assurance.
Each and every member of our team utilizes their own areas of expertise to ensure no details are missed at any point during your inspection.
Find a local HomeTeam near you to schedule your home inspections today. We look forward to meeting and serving you!