Home & Business Inspection Services
Comprehensive Services for Buyers, Sellers & Agents
Whether you're building a new house, selling a property, or suspect you have an insect infestation, there is one team you should trust for all your home and business inspections.
HomeTeam Inspection Service is a team of professional and highly rated inspectors. We provide a wide variety of services for buyers, sellers, real estate agents, and new construction projects.
What Do Inspectors Look For?
Inspectors check for safety issues, structural integrity, and the condition of major systems such as plumbing, electrical, heating/cooling, roofing and insulation. They also check for any signs of water damage or pests that may be present in the home or business. Inspectors may also review energy efficiency and advise on any upgrades or repairs that may be needed to make the property more efficient.
Find your local HomeTeam location to order your home or business inspection. We're backed by three decades of experience. With us, one call does it all®.
We take pride in not only being trustworthy and accurate but in being fast and efficient. We'll help eliminate your need to hire numerous inspectors. With us, you can take care of everything at once.
Expert Evaluation and Assessment For Any Residential or Commercial Property
HomeTeam Inspection Service provides a comprehensive evaluation and assessment of residential and commercial properties. Our certified inspectors use the latest tools, technologies, and industry best practices to thoroughly inspect every aspect of a property. We will check for any structural defects or issues with plumbing, electrical systems, HVAC systems, roofing materials & roofs, drainage & grading issues, insulation levels & energy efficiency ratings, safety hazards & more!
Our detailed report includes digital photos of areas of concern along with recommendations for repairs and maintenance. HomeTeam also offers additional services such as radon testing and indoor air quality assessments upon request. Contact us today to learn more about our complete inspection service!
After we complete your inspection, we will provide you with a report that is both comprehensive and easy to read.
Making sure you are safe in your home is what we're all about, so we'll make sure you fully understand our findings and answer any questions you may have.
Your One-Stop Resource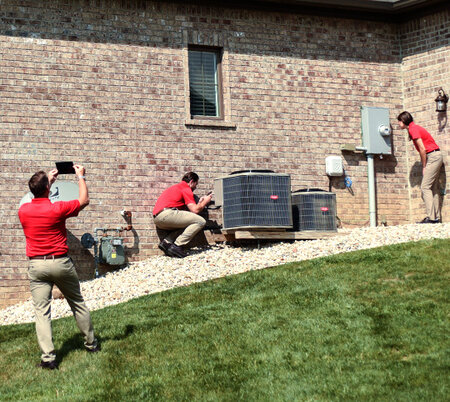 What sets us apart from our competitors is the fact that we provide more than just one inspector—we send a team. This benefits home and business owners for several reasons.
In addition to being able to finish your home inspection in half the time that it usually takes, we are able to be more thorough and provide a variety of experiences and perspectives, ensuring the most thorough inspection possible.
Additionally, our team can handle it all - we aren't limited to the typical home inspection.
Instead of having to wait for different inspectors to conduct each individual inspection, with one call to HomeTeam, you can get it all.
Ready to order your home inspection? Find a HomeTeam location near you and get started today. We're backed by a superb reputation.
Our State-of-the-Art Technology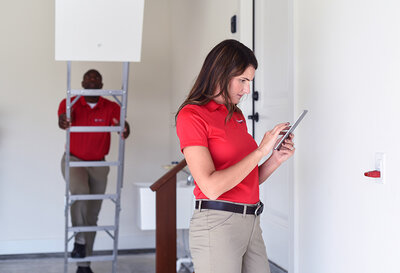 How is it that we are faster than our competitors while still maintaining thoroughness and accuracy?
In addition to sending a team, we also come equipped with advanced technology. These tools and techniques allow us to confidently inspect every area of your home and provide a detailed report that clearly explains our findings.
How Much Does It Cost To Get A Home Inspection?
The cost of a home inspection from our team vary based on a number of factors, such as the size of the home, its location, and the specific services required. Our experts are dedicated to providing a thorough, high-quality inspection that meets your specific needs. To get an accurate quote for your home inspection, please contact your local HomeTeam Inspection Service directly. Our knowledgeable team would be more than happy to discuss your needs and provide you with a personalized quote.