Inspection Services for Home Buyers
Making Sure Your Home Is a Dream Come True
Your new home is one of the biggest investments you'll ever make, both financially and emotionally. While your new property may look like it's in great shape, it can be difficult to pinpoint problems unless you schedule a home inspection with thorough and expertly trained professionals.
With HomeTeam Inspection Service, you can rest easy knowing that your dream home is a dream come true. We can help you protect your investment by bringing a whole team out to conduct a comprehensive inspection.
Our home inspection services are highly rated and backed by 30 years of experience. Contact the HomeTeam location in your area to schedule your inspection.
Buying a Home? We Offer Fast & Accurate Inspections.
Our job is to help you feel comfortable buying the home you've chosen. We do that by providing fast and accurate home inspections.
What Are the Most Important Things You'll Look At?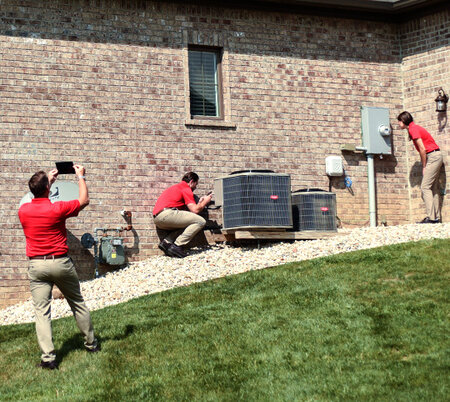 When it comes to thorough inspections, we'll look at both the interior and exterior of your home.
Some of the most important components we'll inspect are:
The plumbing system
HVAC (heating, ventilation, and air conditioning)
Electrical systems
The home's foundation
The Roof
What's unique about us, is that we send a whole team of inspectors to the home. Not just one! Each inspector on the team will have a specific area of expertise so you get an accurate and timely report.
How Do I Schedule My Inspection?
First - find your local HomeTeam inspection by utilizing our locations page.
Scheduling your inspection with us is quick and easy. You can either call the local HomeTeam Inspection Service or schedule the inspection online.
To schedule online, fill you the brief form by answering the prompts. The form only takes a few minutes to fill out.
Based on the age of the home and the square footage, we'll suggest which inspections are ideal for the home. For example, you'll have the option to add on a pest and termite inspection or a radon test.
Once you've selected your desired inspections, you'll get to choose which date and time to have the inspection performed. We offer very quick turnaround times and in some cases, next-day inspections.
We make the home inspection process easy! Find a HomeTeam near you for a courteous, honest, and timely home inspection.
We've Got Your Home Inspection Needs Covered
Whether you are relocating to another home or becoming a first-time homeowner, HomeTeam Inspection Service can help you make your decision with confidence.