Wind Mitigation Inspections
How You Can Benefit from Our Team Inspection
Wind mitigation inspections report on the wind resistance features of a home, building, or structure. These inspections were developed to save homeowners money on home insurance by crediting them for features that mitigate the amount of damage that could occur during a hurricane or strong windstorm.
Typically, the reports and wind premium discounts* are based on an inspection of these features:
Building Code (up to 86%)
Roof Covering (up to 11%)
Roof to Deck Attachment (up to 9%)
Roof to Wall Attachment (up to 35%)
Roof Shape (up to 47%)
Secondary Water Resistance (varies)
Opening Protection (up to 44%)
*Discounts may vary based on your insurance policy and/or state regulations. Your insurance agent is best prepared to assist you in determining your eligibility for mitigation credits and discounts.
Why Should I Schedule a Wind Damage Inspection?
Florida and many other states require insurance companies to lower rates for homes with specific wind mitigation features that make them better equipped to withstand storms. HomeTeam Inspection Service would be happy to conduct a wind mitigation inspection on your property to help you protect your home from damage caused by severe weather. This, in turn, can help you save on your home insurance while ensuring you are protected in the event of a storm.
Allow our skilled team of professionals to perform a wind mitigation inspection so you can enjoy more protection and savings. In many cases, we can provide wind mitigation reports that are certified for 5 years!
How Do I Take Advantage of Wind Mitigation Insurance Discounts?
When you contact our wind mitigation company to perform a wind mitigation inspection on your home, our team of experts will inspect, photograph, and report the key features of your property that decrease the amount of damage that may occur during a hurricane or strong windstorm.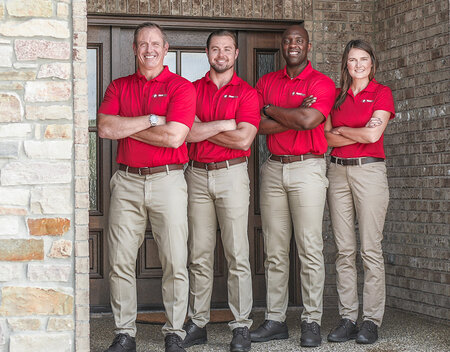 ​After the inspection, we will provide you with a report that verifies all the wind-resistant features that can provide insurance credits for your home. Next, you will want to submit this report to your insurance company, who will then give you an estimate of your premium savings. Savings are based on the likelihood of your home to incur costly repairs if faced with a windstorm or hurricane.
Who Is Eligible a Mitigation Premium Discount?
Single-family and multi-family homes may be eligible for the credits and discounts. Mitigation premium discounts are based on nine different credit points that can only be determined by a certified wind mitigation inspector. One of our knowledgeable HomeTeam professionals can provide you with more information regarding this.