Septic System Inspection
Don't Send Your Money Down the Drain
For homes that are not connected to the city's sewer system, a properly functioning sewer system is integral to day-to-day life. When purchasing a home with one of these systems, it's very important that you have an evaluation that can ensure you're not going to have any issues after the sale is final.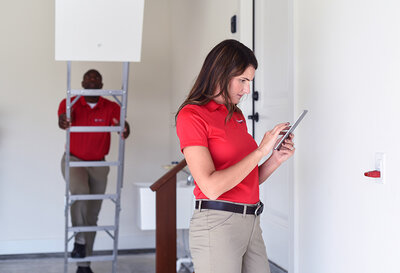 Being that it's underground, it's obviously impossible to visually inspect the entire system without digging it up. Therefore, you need a non-invasive inspection that will make sure all is well.
At HomeTeam Inspection Service, we offer professional septic system evaluations that will empower you with the information you need to make confident decisions. After we are finished with our assessment, we'll provide you with an easy-to-read, detailed report that will be useful to you today and in the future.
Septic System Inspections & MORE
Why go through the hassle of hiring multiple companies to conduct all of your inspections when HomeTeam can handle them all? If you need a home inspection, our team can also provide you with a septic system evaluation during the same visit. You'll save both time and money and will have a thorough understanding of your entire home.
At HomeTeam Inspection Service, we provide comprehensive septic system inspections to ensure that your septic system is in peak condition. Our certified inspectors will thoroughly evaluate your septic tank, drains, and other related components of the system to ensure they are all functioning properly. We understand that a malfunctioning septic system can be a major inconvenience and can be costly to repair, so we strive to help you identify any potential problems before they become too expensive.
When Should a Septic System Be Inspected?
At HomeTeam Inspection Service, we recommend having your septic system inspected at least every three years. This is to ensure that the system is operating correctly and that any potential problems are identified before they become serious issues. Additionally, if you notice any changes in water flow, odors or other signs of malfunctioning, then it's important to have the system inspected immediately.
What Might Septic System Inspectors Look For?
HomeTeam Inspection Service septic system inspectors look for signs of structural damage, clogging or obstructions in the pipes and tanks, evidence of leaching from the tank into the surrounding soil, proper operation and maintenance of effluent filters, pump systems and other components, presence of any hazardous materials such as oil or sewage sludge in water lines or around the site. Additionally our inspectors will check for adequate drainage on all sides of the tank to ensure proper functioning.
How Do You Evaluate a Septic System?
We use a comprehensive approach to evaluate septic systems. This includes performing a visual inspection of the system components and assessing their condition, testing for proper flow and operation, evaluating potential sources of contamination, taking soil samples for analysis if necessary, inspecting any related equipment such as pumps or tanks, examining records from past inspections or repairs where available and making sure all relevant local codes are followed. We also provide our customers with detailed reports on the findings so that they can make informed decisions about their septic systems.
Complete Septic System Inspection Services
Our inspectors will check your system for signs of damage and wear, and also look for any blockages or clogs in the system. We also take readings of the tank levels and check the system's integrity. If we find any problems, our inspectors will provide you with an in-depth report detailing the issues and provide recommendations on how to fix them.
We are proud to offer our septic system inspection services to homeowners and businesses in the area. Our experienced inspectors have years of experience in inspecting septic systems and can provide you with the peace of mind that your system is functioning properly.
If you're looking for a reliable septic system inspection near you, look no further than HomeTeam Inspection Service.
In addition to septic system evaluations, we offer inspections that cover your:
Basement and attic
Doors, windows, and roof
HVAC systems
Decks and patios
Plumbing and electrical systems
Ready to get started with your septic inspection? Call (844) 969-0458 or find your inspection team near you.
We are proud to be a Franchise 500 company and named a 2019 Approved Vendor by Keller Williams. Schedule your evaluation online today and discover why our clients turn to us for all their inspections time and again.
A Septic System Evaluation Company You Can Trust
When it comes to your septic system evaluation, it's important you have a team that understands local regulations and is equipped with a thorough understanding of these systems. Want to learn what our customers are saying about our septic system inspections and other services? Read our Customer Testimonials and contact us today to learn more!